The world needs more people like you who are directing their time and energy into Nature-based businesses. We are a new kind of entrepreneur...Naturepreneurs!
You know that in today's world, having a strong online presence is key to growing a successful business. Facebook is now the most favoured and affordable form of marketing. When you develop a loyal community of supporters and customers around your business, it will help you obtain more freedom and time to do the things you love most (for us it's hiking with our dog).
Hi! We're Alissa and Kevin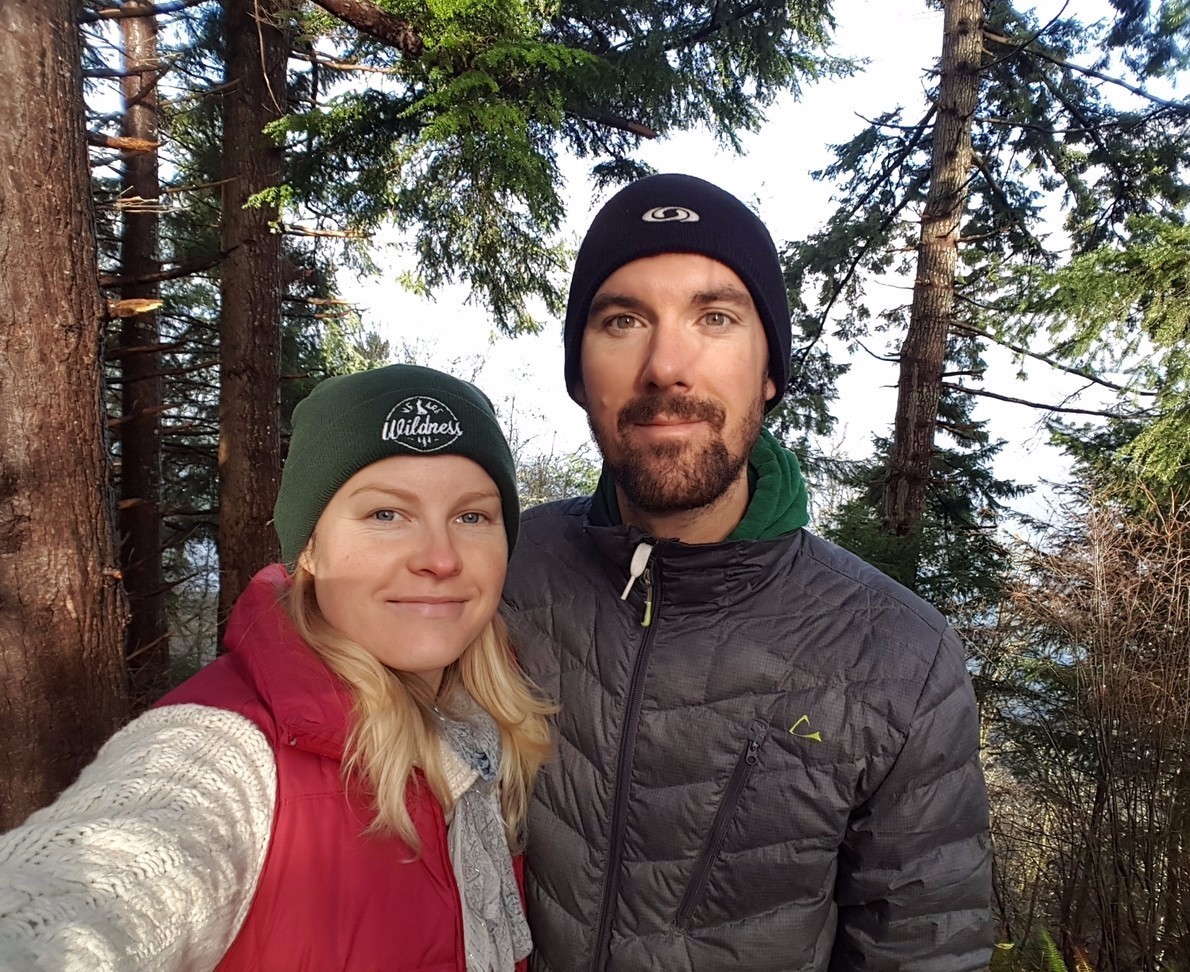 We're the founders of We Are Wildness, and we want to share a story with you...
It's a story about how we took We Are Wildness from 300 likes on Facebook to over 490,000.
And in the process, built a business that aligned with our passions and gave us the freedom to quit our jobs and spend more time doing what we love, turning our dreams into a reality.
---
We started We Are Wildness back in 2011.
Facebook was a lot different back then. Businesses were just figuring out how to leverage it as a tool for marketing. Everyone who liked your page saw all of your posts, and those nasty Facebook algorithms hadn't started yet (the ones that now keep your posts from getting hardly any reach).

We had no idea what we were doing and how to grow. Despite our efforts, our page's growth on Facebook was painfully slow. But we knew we HAD to keep our page going as it was essential to reaching our goals. At least that's what all of the the Facebook marketing experts were saying.

So we worked away at it...only to grow a little here and there.
We would often work on a blog, new product offer, or some other Facebook post we put a lot of effort into and were excited about, only to post it and get nothing but crickets in return…
It was VERY discouraging.
Then Facebook launched it's new feed algorithms and Facebook Ads. This meant that Facebook was now using a complex system to determine how much reach posts would get, and who they would be shown to, based on interest, relevance, and engagement.
After this happened, our posts performed even worse. It felt horrible!

Almost nobody was seeing our posts...even people who liked our page and WANTED to see them.

We even got messages from people asking where we had gone and why they weren't getting our posts anymore. We just couldn't reach them no matter what we tried.

On top of that Facebook Ads were starting to take up valuable room in people's feeds, and we didn't have any money to start spending in order for people to see our post -- and how could we possibly do that for every single post!?
At the time, we were living in our 12 ft. trailer in a trailer park in Mexico with almost no money in our bank accounts and relying on our credit card to get by. We were enjoying the beach, the sunshine, and lots of coconuts, but things were getting desperate.
We noticed that the pages we followed that were growing the fastest were getting a lot of shares on their posts. They were going viral so to speak…

How were they getting these shares and all these new likes that came with them?

There seemed to be an art to creating sharable content on Facebook.
We knew we had to learn that art in order to keep growing our page and our business, otherwise we'd have to give up on our passion.

So, we made it our mission to research and learn everything that we possibly could about Facebook marketing.

We watched Youtube videos, attended webinars, paid for online courses and training, read ebooks, messaged people who ran large Facebook pages, and worked with mentors and coaches, trying everything we could until something clicked…
We spent years working at it, and eventually we cracked the code...and it changed everything for us.
Once we put what we learned into practice, our page started growing like crazy!

By hundreds, and even thousands per day.

Our posts started getting tons of likes, comments, and most importantly, SHARES!

Many of our posts were getting shared by other big pages on Facebook...some with millions of followers like Upworthy, Sustainable Human, and National Geographic Channel.
Our links were getting clicked too!

A few of our blog posts crashed our entire site because of how much traffic we were getting from Facebook. We had to upgrade our hosting plan so that our site could support all of this new traffic, and potential customers.
All of this new traffic directly resulted in more business for us. Our little passion project to help connect people with nature was beginning to look like it had real potential as a business...People were buying our products, ebooks, and challenges.


The best thing was that a diverse community of supporters from all over the world was forming around what we had created.
It felt amazing.
We were finally getting somewhere.
As our business grew and became more profitable, we were able dedicate more time to it.
Facebook was our main area of focus. We wanted to keep growing our community there as we saw just how popular Facebook had become and how many people we could reach.
We were spending more and more time on Facebook trying to keep up with bigger pages who seemed to be posting all day and night.
We thought we had to be doing the same...so we spent HOURS each day looking for content to share and post.
Creating and running a big page on Facebook seemed to be a full time job.
Rather than working on fun and exciting projects for our business and things that could help generate more revenue and keep our business growing, we were bogged down by managing our Facebook page.

We were spending less time doing what we loved...and having less free time doing what we promote with We Are Wildness, which is spending time in nature.

Wake up in the morning... post on Facebook
Last thing at night...post on Facebook.
It was ironic… and frustrating.
We couldn't possibly keep this up.

When we weren't on Facebook posting all day...our page wasn't growing...and we weren't directing visitors to our website.
We wanted our FREEDOM back!
We thought about quitting Facebook altogether...but it was way too important to our business. We needed Facebook.
We felt that there had to be a way to be more effective and efficient with the time we spent on Facebook so that we didn't have to spend all day in front of the computer.
We went back to the drawing board, learned as much as we could, and discovered new features on Facebook, new ways to leverage our time, how to keep up with the changing Facebook algorithms, and most importantly, get our freedom back while still growing our business.

Now we spend more time doing the things we love...
A video posted by Alissa Wild (@alissainthewild)
on
....and less time on Facebook, but still experience growth each and every day.

So many Naturepreneurs struggle just like we did. We see it all the time with business owners we consult with.
They spend thousands of dollars or tons of their time on Facebook each month, only to get a small amount of growth and nothing but crickets on their posts. They are left wondering…
"Is Facebook even worth it for my business?"
The problem is that they're just repeating the same things over and over again and expecting different results.

Post after post...day after day.

Or worse, giving up on their page completely, only signing in when they remember it even exists.
We promise you there is light at the end of the tunnel. You just need a shift in your approach.
And you're looking for that shift. You're ready for it.
That's how you ended up here, right?
If you're like us...you seek solutions, and you know there is always a better way.

You want to continue working on what you're passionate about, and see it grow...and you know success on Facebook is essential,

but you don't know where to start, or you don't have time to sift through videos, webinars, ebooks, or read blog post after blog post of outdated advice that doesn't work for your type of business.
We want to help fellow naturepreneurs avoid the mistakes we made, and jump further ahead by leaps and bounds, saving years of struggle, and slow growth on Facebook.